Despite losing its starting quarterback and top receivers, the prospects for the Michigan State football team appear to be just fine this fall.
Brandon Boykin runs for a score against Michigan State...
The Spartans pulled out a triple-overtime victory over Georgia in the Outback Bowl to win a school record 11 games last season. Since Michigan State and Boise State are playing this fall, that makes for some good comparisons. The Broncos opened the season with a 35-21 victory in Georgia's backyard. Though the 2012 Broncos weren't able to set a school record in wins, they were able to finish 12-1 with a 56-24 blasting of the PAC-12's Arizona State in the Las Vegas Bowl.
Michigan State will have Boise State right where they want them--at home, where Sparty has won 14 consecutive games.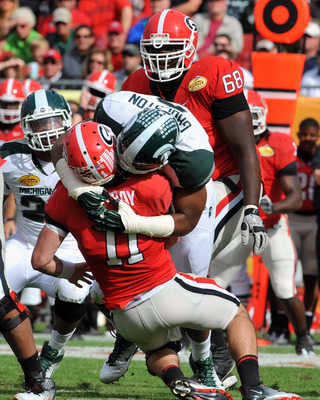 Ghoulston welcomes Aaron Murray to the game...
MSU returns eight starters from the top defense in the Big Ten. The Spartans led the conference in rushing defense (100.5 yards per game), total defense (sixth nationally at 277.4 ypg), interceptions (18) and third-down defense (.337) last season. Michigan State was second in passing efficiency defense with a 113.3 rating, sacks with 45 (seventh in the nation) and tackles for loss with 105 (14th in the country). They also were third in passing defense, allowing 176.9 yards a game and third in scoring defense with 18.4 points per game allowed.
Again, comparisons are in order. Unfortunately, the top passing team the Michigan State defense saw last year may have been its own offense. Of the 13 major college opponents last year, just three (#25 Central Michigan, #38 Northwestern and #40 Notre Dame) were ranked in the upper half of the division. The Spartan defensive secondary also played against #59 Iowa, #61 Wisconsin, #80 Indiana, #93 Michigan, #104 Nebraska, #109 Minnesota, #111 Florida Atlantic and #115 Ohio State. To give Bronco fans an idea of the passing games of these teams, Idaho was #88.
The Spartans did indeed face some running teams, however. The Big Ten Conference loves to run the ball--they run it, run it again, then run it some more, and they pile up big rushing statistics. Wisconsin was 11th in the nation in rushing last season, while Michigan was 13th, Nebraska #15, Ohio State 27th, Northwestern 45th, Indiana was #53 and Notre Dame 54. Boise State came in 40th last year, so MSU faced three teams that ran the ball better than the Broncos.
It will be interesting to see what Prince has dialed up against Michigan State.
Again, a good comparison between these two teams is Georgia. The Bulldogs ran for 129 yards against Boise State, but only managed 53 against the stingy Spartan defense. Clearly, the front four for Michigan State played better against Georgia than Boise State. However, Michigan State allowed 288 passing yards against Georgia while Boise State allowed 261 in a game in which Georgia had to pass a lot to catch up. One has to believe that the offensive minds of Robert Prince and Chris Petersen have more in store for Michigan State than Georgia did.
It will be important for Boise State to open up some good passing lanes, especially with Tyler Hoover (6-7, 295) sitting in the middle of the Michigan State defense. Anthony Rashad White (6-2, 320, Sr.) is the other tackle who will be clogging things up. Ends Marcus Rush (6-2,250) and William Gholston (6-7, 275) will look to use their quickness to get some sacks against the Broncos. Juniors Max Bullough (6-3, 252) and Denicos Allen (5-11, 232) and sophomore Taiwan Jones (6-3, 232) are slated to start at linebacker. Darqueze Dennard (5-11, 190) and Johnny Adams (5-11, 175) are #1 on the depth chart at corner, while Isaiah Lewis (5-10, 195) is the strong safety. MSU has the free safety going to either sophomore Kurtis Drummond (6-1, 197) or redshirt freshman R.J. Williamson (6-0, 200).
I mentioned Boise State was 40th last year in rushing; Michigan State was 78th. Clearly, the Spartans' strength offensively was using the arm of Cousins, who helped MSU place 41st in the country through the air. Boise State was 11th in passing offense.
The Spartans will have a solid nucleus (four starters) returning on the offensive line this fall. Senior guard Chris McDonald, tackles Fou Fonoti and Dan France and sophomore center Travis Jackson are all back to protect the new starting quarterback.
Speaking of which, Michigan State lost high NFL draft pick Kirk Cousins as the signal-caller. Cousins is the winningest quarterback in school history at 27-12 and he will be sorely missed. Gone too are starting receivers B.J. Cunningham, Keshawn Martin and Keith Nichol along with two tight ends (Brian Linthicum and Garrett Celek). Cunningham set career marks with 218 receptions and 3,086 yards.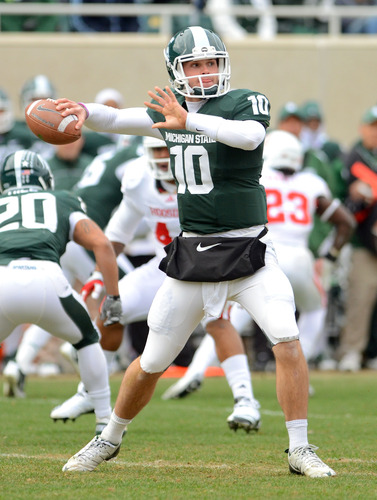 Maxwell will test his mettle against a ball-hawking Bronco secondary...
Andrew Maxwell (6-3, 212, Jr.) came out of spring ball as the leader at QB. Maxwell has completed 57% of his passes (29-51) for 294 yards and a touchdown in his career.
In comparison, Joe Southwick, the man many preseason magazines believe will start for Boise State, is 40-54 (74.1%) for 400 yards and two scores against one pick in his collegiate career.
Maxwell completed 151-of-254 passes (59.4%) for 2,032 yards and 23 touchdowns against 11 interceptions at MIdland High School in Michigan.
Junior Le'veon Bell (6-2, 238) and sophomore fullback Niko Palazeti (6-1, 250) will do their share of bruising as hard-running backs. The Spartans will turn to the youth movement at receiver in sophomores Keith Mumphery (6-0, 208) and Tony Lippett (6-3, 192) while big Dion Sims (6-5, 280, Jr.) is essentially another lineman at tight end.
As talented as the front four was for Boise State last year, they were also inconsistent, especially in their one loss against TCU. Plus, because many of the games were blowouts, this year's front four played nearly as much as the starters. You could say that the reason for the inconsistent front line play was related to not playing more than 50% of most of the games. In any case, it did prepare the 2012 starters for a super season this fall. They've been out there for all the tough battles against the great offenses of the country. The new Bronco front four played against nine teams ranked in the top half in the nation in rushing (#3 Air Force, #8 Nevada, #17 Toledo, #26 Tulsa, #30 San Diego State, #33 Wyoming, #44 Colorado State, #48 UNLV and #49 Georgia) and six teams (#10 Arizona State, #27 Fresno State, #30 Toledo, #32 Nevada, #44 Tulsa and #48 Georgia) ranked in the upper half of the nation's passing teams last season.
Based on the data above, oddsmakers obviously favor Boise State in the game, right? Nope. They have established Michigan State as 6-7 point favorites. There can be no doubt that the elite in college football are hoping that this is the year it all goes down the drain for the Broncos, that finally Chris Petersen runs out of tricks, that this is the last that we have to talk about Boise State.
The simple truth is that Boise State nor Chris Petersen is going away anytime soon. This year's 2012 Boise State team is the most talented the school has had in their history. If the coaches can develop this talent, and history shows they have done just that in Boise State's incredible run of over 10 years now, the 2012 Boise State football team will definitely not go down the drain.
I expect they will have plenty to say about the naysayers, and the action starts against Michigan State this fall.