When you lose as many seniors as Boise State did in 2011, there is tremendous opportunity for new stars to emerge, for people to step up and enjoy their moment in the sun. I identify several players below that I believe that must step up this fall if the Broncos are going to reach their potential. You will notice that these players aren't stars already--there are several players returning that have already proven themselves and they'll do fine. What this list is about is the guys that might be unsung players on the team, or players that haven't fully reached their potential but might be on the verge of exploding this fall.
The Bronco team badly needs each of these guys to do just that, to start to build a future for themselves. This is their time now. The Kellen Moore's, Doug Martin's and Shea McClellin's have already formed their destiny and achieved their greatness. "Refuse to Lose" is the mantra, and if this next group of Broncos is going to be thought of in the same light as the Class of 2011, these players must step up now.
Joe Southwick, Grant Hedrick, Jimmy Laughrea and Nick Patti--The obvious vacuum was created when Kellen Moore took his last snap. All four of these young signal-callers must show leadership, beginning right now. They have to establish a rapport with each of their receivers, first and foremost, and with their offensive line. They must show that they can be counted on to deliver an outstanding season and outstanding future for Boise State. Their time is now.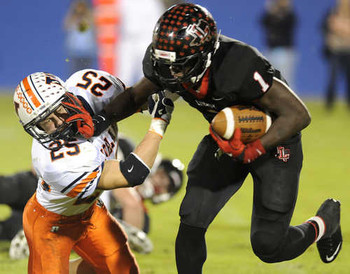 Jay Ajayi--This back came to Boise from Texas with all kinds of talent and potential. It would be a shame to throw that away because you couldn't keep your head straight. With Martin gone, the door is wide open for another back to emerge. Coach Pete said that Ajayi didn't deserve to be with the team in Las Vegas and he's absolutely right. Boise State needs for Jay Ajayi to deserve to be with the team. Period.
Geraldo Boldewijn--The NFL scouts are already excited about the ability and potential of this guy. He's been overshadowed his first two years with Pettis, Young and Shoemaker. The Boise State coaches need and the fans want this tall, talented receiver to be a major force in 2012.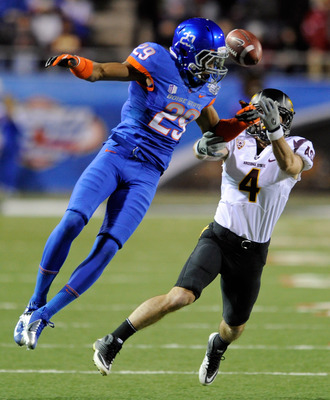 Lee Hightower--This promising freshman helped stop the leaks at cornerback because of injuries to both Jerrell Gavins and Jamar Taylor. Hightower is being groomed to replace George Iloka at safety. Lee just began to show what he can do and the Broncos expect Hightower to be a force in the Boise State secondary for years to come.
Tyler Horn--Big things are expected from Horn, one of a select few to play as a true freshman. He finished the year as the backup to the great Tyrone Crawford, and Horn will have to step up and make his own presence at D-end this fall.
Holden Huff--I list Huff because he is a tall target who showed tremendous potential at Rocklin High School in California. Recruiting buffs will note that Huff played at Rocklin the same time that Jimmy Laughrea did and especially if Laughrea gets the nod next year, look for Huff to shine.
Jeremy Ioane--Ioane selected Boise State over offers from some pretty elite schools but when inserted into the lineup earlier this year, he didn't dominate at safety the way we all expected. The amount of time it takes to adjust to the speed of college ball is different for each player, but if Boise State is going to continue to reside in the upper echelon of college football, Ioane needs to excel this fall.
Malcolm Johnson--This guy has already taken a long route after leading the nation in rushing in high school. He's had a few problems, but if this young man wants to reach his potential, he needs to buckle down and make it happen this fall, not only for him, but to give D.J. Harper some depth behind him.
Joe Kellogg--Kellogg has been a long-time starter, but with the graduation of seniors Thomas Byrd, Nate Potter and Chuck Hayes on the line, Kellogg needs to be the vocal leader of the unit. He will need to bring upperclassmen that will be moving into the starting lineup up to snuff on what is expected out of a starting Boise State lineman, as well as help the younger talent along.
Charles Leno--As another returning starter on the O-line, Leno too will be counted on for his leadership. This has been a proud Bronco unit since The Bronco Years began in 1999 and Boise State will not be successful unless this group dominates this fall.
Beau Martin--Bronco fans are all abuzz about this guy. When you lose five of the best defensive linemen in school history, you really need guys like Beau Martin to step up his game and play like his hair is on fire.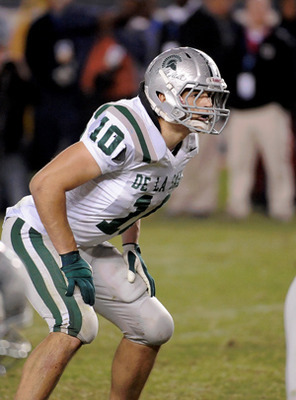 Blake Renaud--Blake graduated from the storied program of De La Salle in California. With Byron Hout gone, Blake is the man that needs to come in and take over the MIKE position.
Jake Van Ginkel--Bronco fans are mystified that there have been no recruits at kicker in the Class of 2012, especially given Van Ginkel's suspension from the Las Vegas Bowl. The only conclusion is that Coach Pete believes he can get this guy straightened out to where Boise State will once again have a reliable kicker. Since that really is the only logical conclusion why there is no 2012 kicker recruit, Van Ginkel must prove why he was brought here.
Troy Ware--Ware is another talented receiver that must step up this fall. When guys ahead of you graduate, that means it's your turn to show what you can do. Life is short and so is your time in college. You only have four years and need to make the most of it. This is Ware's time and he must step forward and give the Broncos another great wide receiver.