Behind the running of Jay Ajayi and a later scamper for a score by quarterback Joe Southwick, the Boise State offense downed the defense 28-19 last night in Bronco Stadium before 9,146 fans who braved a cold swirling wind.
With 3:50 remaining, the Bronco offense had a fourth-and-goal. A stop would have given the defense a 22-19 lead, but Southwick ran it in to seal the victory.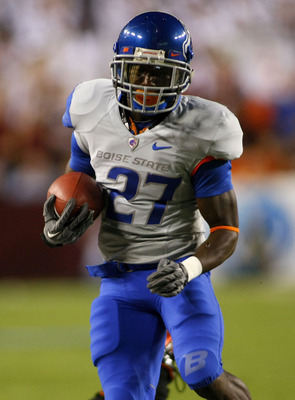 Ajayi gained 69 yards on 11 carries and scored a touchdown, while Southwick was 12-20 for 82 yards with a 22-yard scoring toss to tight end Jake Hardee. Aaron Burks had a breakout game with seven receptions for 50 yards.
Cornerback Donte Deayon was the star of the defense with a 30-yard interception return for a touchdown. Tyler Horn also scored three points for the defense with an interception, while ends Demarcus Lawrence and Beau Martin each had a sack and tackle Deuce Mataele forced a fumble.
Boise State is coming off an 11-2 season which culminated in a struggle to beat unranked Washington in the Las Vegas Bowl.