Daryn Colledge was a standup leader at Boise State who came from a great family, breaking the NCAA record for consecutive starts as an offensive tackle. He was recognized as an All-WAC and All-American performer and helped continue Boise State's great reputation as being one of the top offensive lines in the nation.
Today, Daryn and wife Megan continued to be heroes as they announced a $150,000 donation to the Boise State Athletic Department. The gift will allow Boise State to upgrade the Bronco weight room, which was originally built in 1988 and expanded in 2004.
"We are extremely grateful for all that BSU and the city of Boise have done for us," Colledge commented. "We are excited for this opportunity to give back to our university, and we hope that
with this gift and others like it, BSU will be able to continue to give so much to Boise. We are grateful we can contribute to those who have supported us for so long."
"This gift from Daryn and Megan will allow us to make improvements to our current strength and conditioning facility that will help all of our student-athletes for years to come," Boise State head strength and conditioning coach Tim Socha said. "The Colledge's are very special people and have a great love for Boise State and the city of Boise. It means so much to us that they have decided to give back to the school that they have so much pride in."
"It's always great when former athletes remain involved in our program," Bronco head football coach Chris Petersen commented. "Daryn and Megan's generosity towards supporting our current student athletes is greatly appreciated and allows us to continue our rich tradition of success. Their willingness to give back is proof that they valued their time here at Boise State".
While at Boise State, Colledge helped the Broncos to a four-year record of 45-7 and four consecutive WAC Championships. Daryn was drafed in the second round of the NFL Draft by Green Bay in 2006 and played in every game with the Packers over the next five years, starting 76. Colledge was a key cog in Green Bay's 2010 season which culminated in a win over Pittsburgh in the Super Bowl. In 2009, Green Bay named Colledge as the Walter Payton Man of the Year.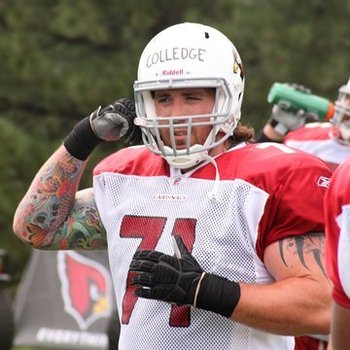 Last season, Colledge became a free agent and signed a multi-year contract with the Arizona Cardinals. He started every game for Arizona as the Cardials finished with an 8-8 record, including a 4-1 mark in the final portion of the season.
On a personal note, I just want to add that I know Daryn, his mother Tammy and his siblings. They are models for the type of people and families that anyone would want in their program. I did several things with Tammy to help the Boise State program and it means a lot when you can help someone with their experience at Boise State, see them excel at the professional level and then turn around and help future Boise State student-athletes. That's the cycle you want to be on and Daryn and Megan are so great to do this!