I'll start out by saying this list looked a lot different prior to 2008. The list is more than simply looking at passing efficiency. In this case, Ryan Dinwiddie's 2002 season would have been #1 if you only look at passing efficiency. But Dinwiddie missed half of the 2002 season with an injury, and as incredible as he was that half year, that half of a season can't be called the best passing season in school history. Also, completions, which count heavily in the NCAA passing efficiency, are not nearly as important as yards per completion.
So I believe it more representative to look at all the factors that go into a passing season: completions, yards, yards per completion, passing efficiency, passing percentage, interception percentage, and touchdowns thrown. Looking at all those factors, here are those ten seasons:
Moore was sensational in his junior year. He completed 273-383 passes for a sizzling percentage of 71.3% for 3,845 yards and 35 touchdowns against just six interceptions. Those numbers rank second in school history for passing efficiency (182.63), sixth for completions, second for passing percentage, second for yards, third for touchdowns and fourth for interception percentage. Moore led Boise State to a 26-3 win over Utah in the Las Vegas Bowl to cap a 12-1 season. Only a heartbreaking 34-31 loss at Nevada spoiled a perfect year.
Moore capped off a legendary Boise State career by hitting 326-439 passes (74.3%) for 3,356 yards and 43 touchdowns, with a passing efficiency of 175.19. His 2011 season ranks first for completions, first for completion percentage, first for touchdowns, third for passing efficiency and fifth for interception percentage. Moore and Boise State blasted Arizona State of the Pac-12 56-24 in the Las Vegas Bowl.
Dinwiddie picked up where he left off in 2002, hitting 276 of 446 passes (61.9%) for a school record 4,356 yards and 31 touchdowns. He ranks third for yards per completion, fifth for completions, 11th for completion percentage, sixth for TD passes and seventh for passing efficiency. Included in Dinwiddie's 11-1 season was a 50-12 victory over BYU and a 34-31 win over TCU in the Fort Worth Bowl. Only a two-point, controversial loss at Oregon State stood in the way of Boise State and a perfect season.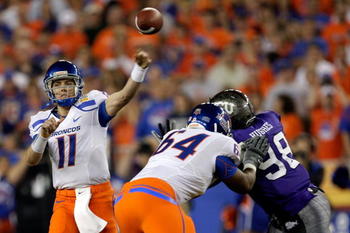 Moore really came into his own in 2009, completing 271-431 passes (64.3%) for 3,536 yards and 39 TD's and set an NCAA record with an interception percentage of just .69%. Moore also ranked second in touchdown passes, third in passing yards and fourth in completions with his 2009 season.
More importantly, he led Boise State to a perfect and modern era record-tying mark of 14-0 and a Fiesta Bowl triumph over TCU. Moore was a Heisman Trophy finalist for his efforts.
Although Dinwiddie missed nearly five games with an injury, he was spectacular in 2002. He returned from the injury with a performance for the ages against Fresno State, leading Boise State to a 67-21 victory in Bronco Stadium. Entering the game in the second quarter, Dinwiddie completed 19 of 23 passes for an incredible 406 yards and five touchdowns. As evidenced by the 21.4 yards per completion, Dinwiddie's throws in that highly-accurate performance were not short; many were 30 and 40 yards. For the year, Dinwiddie was 134-205 (65.4%) for 2,283 yards and 20 touchdowns, and the school record passing efficiency of 188.18.
Hendricks guided Boise State to a 10-2 mark and second straight Humanitarian Bowl victory. The Broncos' only two losses were two seven-point losses to the big boys (38-31 to Arkansas and 42-35 to Washington State). Hendricks was 210-347 (60.5%) for a then-record 3,364 yards and then-record 35 touchdowns. Hendricks averaged over 16 yards per completion, second-best in school history. He still ranks third for TD passes, fourth for passing efficiency (170.63), fifth for passing yards and sixth for lowest interception percentage (2.31%).
Moore and the Broncos went into Eugene and beat the Ducks as a freshman quarterback--that never happens. Boise State finished the year 12-1, with a 17-16 loss to TCU in the Poinsettia Bowl their only defeat. Moore completed 281 of 405 passes (69.4%) for 3,486 yards and 25 touchdowns. His 2008 season ranks third for both completions and passing percentage and fourth for passing yards.
Dinwiddie took over as the starting quarterback as a sophomore, and hit 201 passes out of 322 attempts (62.5%) for 3,043 yards and 29 scores. He ranks fifth for passing efficiency (164.69) and eighth for passing yards and TD passes.
Jimmy Mac hit 192 of 313 passes (61.3%) in 1974 for 2,900 yards and 33 touchdowns. His yards per completion ranks fourth in school history, so there were plenty of long bombs in McMillan's arsenal. He also ranks fifth for TD passes and sixth for passing efficiency (164.38).
Tharp hit 289 of 423 passes in his only year as starter for 3,340 yards and 30 TD's. Until a guy named Kellen Moore came along, Tharp owned the school record for completion percentage with a red-hot 68.3%. His 2007 season also ranks second for completions, and seventh for both passing yards and touchdown passes.