It has been a while since Boise State's special teams have truly been "special". And it has cost them. If three chip-shot field goals had gone through, Boise State would have been 53-0 the last four years. Knowing those missed field goals cost the school $10-15 million, the smart thing to do would have been to hire a field goal specialist. Coach Chris Petersen has been quoted as saying in jest that he doesn't understand field goal kickers. So why not put someone in charge of them who does understand that mindset?
The Broncos' special teams were among the best in the nation in the formative years of the new millennium. And to be fair, there are still elements that excel. Boise State is one of the top teams in the nation in blocking punts and field goals. And Mitch Burroughs and Chris Potter are two of the top punt returners anywhere. But it isn't a complete package, and for Boise State to be the team it wants to be, they'll have to rectify those problems.
Michael Frisina (5-5, 162, Sr.) has won the job as Boise State's placekicker with Dan Goodale backing him up. Frisina played in five games, going 3-4 on field goals and 21-23 on PAT's. Michael was a unanimous first-team all-conference performer at Saddleback Junior College, leaving as the highest-scoring kicker in school history. He was a College Hall of Fame Scholar-Athlete and a member of the Southern California All-Academic Team.
Trevor Harman (6-3, 216, Jr.) will punt for the Broncos and will handle kickoff duties. Harman walked on in 2009 and became the Broncos' primary kickoff specialist as a freshman. He averaged 63.8 yards per kick and had nine touchbacks. He also punted 10 times for a 44.7 average. Harman was named to the All-WAC Academic team following his freshman season. Last year, Harman had a 65.2-yard kickoff average with 17 touchbacks. Chris Roberson (6-0, 228, Sr.) is the long snapper.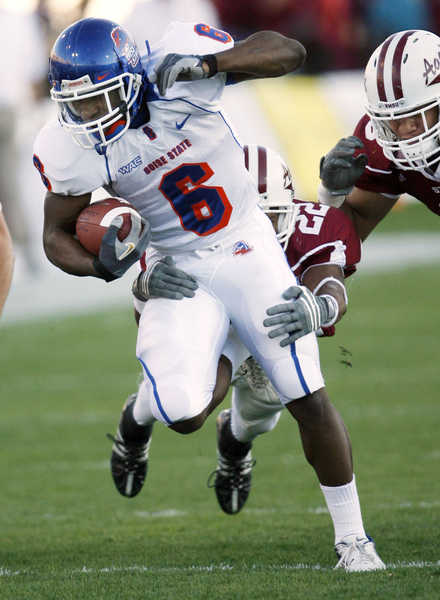 Dangerous D.J. Harper (5-9, 205, Sr.) and speedy Mitch Burroughs (5-9, 193, Sr.) will be back to return kicks while both Burroughs and fellow senior Chris Potter (5-9, 159) will likely return punts this year. Harper returned five kickoffs for 66 yards last season and had one kickoff return as a sophomore for 21 yards.
Burroughs returned eight punts for a 15.9 average as a sophomore and was eighth in the nation last year with a 13.3 average on 18 returns. Mitch also had a 22.8-yard kickoff return average last season. Potter returned 10 punts for a 12.9 average as a freshman. He boosted that average to 13.32 in 2010, 13th in the nation, with a touchdown and was second in the Mountain West to teammate Burroughs last year with a 10.50 average.
All eyes will be on East Lansing this Friday to see if the Broncos addressed the most-pressing issue from the past two seasons.