Jay Ajayi ran for 222 yards and three touchdowns on 24 carries, and backup quarterback Grant Hedrick's running, passing and leadership propelled Boise State to a come-from-behind 34-17 win over Nevada last night in Bronco Stadium.
Ajayi's rushing yards is the fifth-highest in school history and the most since Ian Johnson had 240 yards against Oregon State in 2006. Ajayi set career highs for both yardage and carries (24). Jay is the 10th Bronco to record a 200-yard rushing performance, with the last being a 200-yard game from Doug Martin against Colorado State in 2011.
Hedrick ran for 115 yards and two touchdowns and was a sensational 18-21 passing (sixth best single-game performance in school history) for 150 yards in the victory. Hedrick, who had thrown just 36 passes in his career prior to his heroics, became the first Bronco QB to rush for over 100 yards since Jared Zabransky rushed for 123 against Hawai'i in 2004.
Boise State's rushing total on the evening of 407 was the fifth-most in school history, and ranks second against major college competition to the 425 totaled against Hawai'i in '04. Starting quarterback Joe Southwick was tackled on Boise State's first play from scrimmage and suffered a broken ankle. The earliest Southwick will return is a postseason game, so its especially tough for the senior.
The injury to Southwick seemed to deflate the entire Boise State team. The Broncos had allowed Nevada to march down the field on the game's first possession, but were able to hold the Wolf Pack to a 33-yard field goal by Brent Zuzo. But after the Broncos lost their fallen leader, the offense sputtered initially and the defense gave up huge chunks of yardage on the ground.

"It was hard for everybody," head coach Chris Petersen said. "I think it had us kind of all in a daze a little bit. It took everybody a while to settle in, but the thing that was awesome was the guys did settle in."
Nevada racked up 246 yards of offense in the first half in jumping out to a 17-7 lead, the Pack's first halftime lead over Boise State in 16 years. Quarterback Cody Fajardo went 10-13 for 116 yards to lead Nevada in the first half, while Kendall Brock ran for 63 yards and the game's first touchdown (from six yards out) for the Wolf Pack. Boise State came back with Ajayi scoring the first of his touchdowns on a nine-yard run to narrow the lead to 10-7. Don Jackson's three-yard touchdown late in the second quarter completed the first half scoring.
Whatever went on in the Bronco locker room at halftime worked, for the second half was an entirely different game. The Bronco defense stiffened to allow just 127 yards in the final stanza, with most of that coming late in the game. Defensive coordinator Pete Kwiatkowski had been shuffling his defensive line all game, and in the end, the Nevada offensive line seemed to wear out, while the Bronco d-line was fresh. Boise State, which had trouble getting off their blocks in the opening half, pushed their opponents aside in the second.

"The team did a great job at halftime...of refocusing," Petersen said. "Our defense started to get off blocks and really stop the run."
Meanwhile, the Boise State offense, with Hedrick leading the way, caught fire. Hedrick drove the team 64 yards in eight plays on its opening possession of the second half, with Ajayi stretching the ball over the goal line after a four-yard run from the wildcat formation. Nevada held a 17-13 lead when the extra point failed.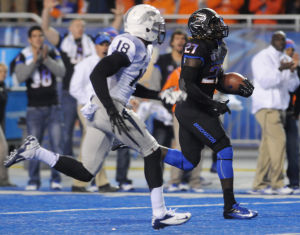 After the Bronco defense held to get the offense the ball back on their own 29-yard line, Ajayi raced through the Wolf Pack defense for a 71-yard touchdown, and Boise State had its first lead at 20-17 with 9:31 remaining in the third quarter.
Hedrick added touchdowns of 20 and 14 yards to provide the final margin of victory.

Boise State, 5-2 on the season and 3-1 in Mountain West Conference play, outgained Nevada 360-127 in the second half. The Broncos have now won 50 consecutive games during the month of October, with their last October loss being to Rice 12 years ago. The win enabled the Bronco senior class to win the 40th game of their college careers (40-4), the 12th consecutive Boise State senior class to win 40-or-more games. Coach Petersen advanced his record at Boise State to 89-10 (89.9%), and will coach his 100th game next week against BYU. Nevada falls to 3-4 and 2-2.

Hedrick showed the kind of person he is with this reaction to Southwick's injury: "That thing kind of makes you sick to your stomach. I mean Joe puts so much time and effort into each week of practice and to see him go down like that, it just kills me inside."


Ajayi now has 12 touchdowns on the season, tied for the national lead with Marion Grice of Arizona State. He raced up to 16th in the country in rushing with his phenomenal performance last night, and now has 766 yards on the season. Boise State had multiple 100-yard rushers for the first time since 2009, when Doug Martin (121) and Jeremy Avery (116) did it against Utah State.

Ajayi gave credit to Hedrick for his play: "When Grant did his 49-yard scramble (in the first half) it pumped me up. It was like 'Okay, Grant's getting loose so I have to get loose too.' I definitely was able to feed off of his energy and his play."

Wide receiver Matt Miller had five catches for 55 yards to pass Jeremy Childs for fourth place in school history. The dynamic junior now has 170 career catches, and trails only Austin Pettis (229), Titus Young (204) and Don Hutt (189).
The Bronco defense recorded 6 sacks and 10 tackles-for-loss on the evening. Demarcus Lawrence registered a career-high 3.5 sacks, the highest total in the nation this year, and he jumped up to fifth in the country in sacks this season. Redshirt freshman linebacker Ben Weaver had 14 tackles to lead the Bronco defense. True freshman linebacker Tanner Vallejo, who started for the first time in his career, finished with seven tackles and a tackle-for-loss. Vallejo is the third true freshmen to start a game this season, and is the 14th Bronco to make his starting debut in 2013.

Boise State now travels to take on BYU, which scored a 47-46 win over previously unbeaten Houston last night.