Today's college football game between Boise State (3-2, 1-0 in the Mountain West) and Utah State (3-3, 2-0) will go a long ways in deciding who will be the Mountain West Division representative in the historic first MWC Championship game later this year. The winner will still have to get past Wyoming and the rest of the conference slate.
As is always the case in close games, one team will earn the win on the basis of fewer turnovers and better defense. Utah State has shown a strong front seven; Boise State not so much. And here's the real shocker: Boise State, which up until now had one of the top offenses in the history of college football, is barely ahead of Utah State this year. The Broncos are averaging 209.8 yards rushing and 281.6 yards passing, for a total of 491.4 yards per game. The Aggies are averaging 200.3 yards rushing and 275.2 yards passing, for a total of 475.5. That's essentially a wash in a category Boise State would have dominated even two years ago.
USU has built quite a stable of running backs. There are three in particular (Joey DeMartino, Joe Hill and Robert Marshall) that can hurt the Broncos. DeMartino has been sensational thus far, rushing 63 times for 425 yards and four scores. That 6.7 yards-per-carry average would tie the Boise State school record set last year by Bronco running back Jay Ajayi. Hill (53-252) and Robert Marshall (34-152) are also more than capable toting the ball.
While none of those ball carriers have proven to be consistent targets to catch the ball out of the backfield so far this year, Utah State's receivers more than make up for it. Travis Reynolds (25 catches for 353 yards and three touchdowns) and Travis van Leeuwen (24-308 and 2 TD's) are the top two long-ball threats; Keegan Andersen (10-134 and 3 scores) is another. Bruce Natson (28 catches for 214 yards) is the possession receiver for USU, while Brandon Swindall (20-216 and four touchdowns) and D.J. Tialavea (17-93 and 3 TD's) are others that could punish the Boise State secondary.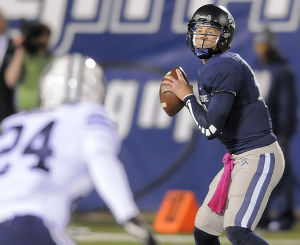 All eyes will be on new QB Harrison...
With the season-ending injury to quarterback Chuckie Keeton last week against BYU, Craig Harrison assumes the reins for the Aggies. He has performed adequately, hitting 23-46 of his passes (50%) for 263 yards and two touchdowns. Harrison has also run the ball seven times for 43 yards. With the way the Aggie defense is playing, Harrison doesn't have to be a star--he just needs to execute the offense and not turn the ball over.
Meanwhile, Utah State is giving up an average of 335.8 yards per game--they rank 25th in the country in total defense. Boise State, on the other hand, is #69, giving up 405.8 yards a contest. That's a difference of 70 yards per game. An offense can do a lot with an extra 70 yards over their opponent. Depending on field position, that's a chip-shot field goal at the worst, and very likely an extra touchdown.
Sophomore Kyler Fackrell (6-5, 256), safety Maurice Alexander (6-2, 212, Sr.), Zach Vigil (6-2, 232) and Jake Doughty are all players that the Bronco offensive line must be aware of. Fackrell has four sacks, eight tackles for loss and two forced fumbles in accumulating 41 tackles this season. Doughty (6-0, 234, Sr.) has recorded a team-leading 64 tackles, a sack, a forced fumble, and five tackles for loss. Vigil has 57 stops on the year, including three forced fumbles, .5 sacks and 3.5 tackles for loss. Alexander can be another menace in the Bronco backfield, with 1.5 sacks 4.5 tackles for loss and 39 total tackles.
In the secondary, Tay Glover-Wright (6-0, 175, Sr.) has one forced fumble, a recovery, and four pass breakups. Other than Alexander, the defensive backs don't have overwhelming numbers in terms of tackles, and that's because the front seven has played so well.
BYU came into Logan last week and beat the Aggies 31-14. In the past, Boise State has done at least as well: 52-21 in 2009, 52-0 in 2007, 45-21 in 2005. But in analyzing this angle, two things must be pointed out--1) Utah State is far, far better than any time the Broncos have faced them and 2) Boise State has yet to show they are anywhere near as good as the great Bronco teams from 1999-2011.
Boise State has not defeated a high-quality opponent yet this year, and a win on the road in Logan would be a nice victory on the resume. If the game comes down to special teams, the Broncos appear to have the edge. Boise State fans, however, are hoping to see a consistent performance from both their offense and defense, so the game won't be decided by special teams. To do that, the Bronco defense will have to step up, contain the brutal USU running game, get some sacks in key situations, and force turnovers from Utah State's new starter Harrison. The Boise State offense will have to hold on to the ball, get long drives to keep the ball away from the ball-controlling Aggie offense, and finish their drives with touchdowns.
In any case, this should be the most entertaining Boise State-Utah State game in years.