This 2012 Boise State football team keeps finding ways to win. New Mexico, for all its improvement, made every play it needed to make except one in a 32-29 Bronco victory in Albuquerque last night. Only a Tommy Smith knockdown of a fourth-down pass with two minutes remaining prevented New Mexico from winning this game.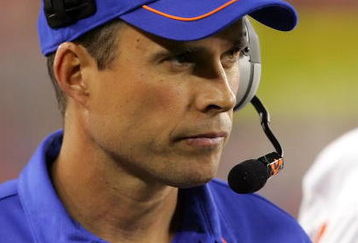 "I've been preaching this forever," Boise State coach Chris Petersen said. "You never let a team off the hook. I will give all credit to New Mexico; they took advantage and made plays. It was hard and we fumbled and they capitalized. It can change fast and I hope this team learns that."
The Lobs had forced Boise State into a 44-yard field-goal attempt that hit the crossbar, enabling New Mexico to take over on their 27. Petersen opted to go for the field goal, knowing that New Mexico's kicker was money and was a good threat to tie the game. The Broncos toughened up on three running plays to force a fourth-and-4. B.R. Holbrook fired a pass for Lamaar Smith, but he didn't see linebacker Smith, who batted the ball away, and Boise State ran out the clock.
It was a classic tale of first halves, one in which Boise State converted three Lobo fumbles into scores in a 25-0 halftime lead; one in which New Mexico converted two Bronco fumbles into touchdowns in dominating the second half 29-7. And it was a stark contrast to Boise State's last victory, a hard-fought 7-6 decision over BYU in which the offense did not score a touchdown and the defense constantly kept the high-flying Cougars at bay. This time, Robert Prince's Bronco offense scored in five of six red-zone opportunities, while the defense was mystified by New Mexico's new triple-option.
Bronco quarterback Joe Southwick was 24-34 for 311 yards and three touchdowns on his journey towards becoming a solid college football quarterback. Southwick seemed to get out of his habit of locking in on his receivers, often going to his second and third options.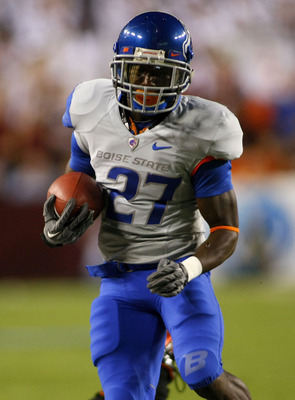 Meanwhile, the Bronco running game enjoyed its best performance of the season, as senior D.J. Harper gained 98 yards and freshman Jay Ajayi had 118 yards and a touchdown on six carries. Ajayi had a 61-yard run in the first half to set up his touchdown, and another long run that took him into Lobo territory as the clock ran out in the first half.
New Mexico coach Bob Davie, who is making his return to coaching after 10 years in the ESPN booth, has his team playing with emotion and confidence. The Lobos have already matched last year's win total. Last season, New Mexico lost in Boise, 45-0.
New Mexico quarterback Cole Gautsche scored two touchdowns and a two-point conversion, gaining 71 yards on 11 carries. Kasey Carrier picked up 86 yards on 18 carries with a touchdown, as the ground-oriented Lobos ran for 324 yards.
"That's what's so difficult about their offense," Boise State nose guard Mike Atkinson said. "They have so many options. They run the triple-option offense and a lot of teams don't do that anymore so it's really hard to pick up their schemes."

Two fumbles by Carrier led to scoring drives in the first half. The first was at the Lobo 43 and five plays later, Southwick connected with Chris Potter for a 10-yard TD pass in which Potter showed surprising strength in overpowering his man, then tip-toed down the sideline to put Boise State ahead 10-0. On the ensuing possession, New Mexico drove down the field before Carrier's fumble on the Boise State 19. Three Ajayi rushes took the Broncos 81 yards for another score.
But the second half was the opposite of the first. On the opening kickoff, freshman Dallas Burroughs fumbled at the 26 and Jhurell Presley completed the short drive for six with a three-yard run that made it 25-7. Carrier added a five-yard scoring run later in the quarter.
Southwick led the Broncos down the field on what proved to be the winning touchdown. At the Lobo 8, he noted a cushion for quick freshman receiver Shane Williams-Rhodes, who juked his defender, then scampered into the end zone untouched to make it 32-14. But Williams-Rhodes's fumble at the 48 on Boise State's next possession breathed life into the already excited New Mexico team and home crowd. Joe Stoner picked up the loose ball and rambled all the way to the 1, where Gautsche took it in to cut the Bronco lead to 32-29 with 7:42 left.
Thus, Boise State survived by the skin of their teeth, and hopefully, yet more lessons were learned by this young Bronco team. Boise State is now 3-1 on the season and heads into Hattiesburg, Mississippi, the site of last night's swimming meet in which upstart Southern Mississippi nearly upset Louisville. In a game marked by heavy rain and huge puddles covering the field, the Golden Eagles had the Cardinals on the ropes the entire game until late in the fourth quarter. A poor punt gave Louisville excellent field position, and they took it in to win 21-17.