Coach Harsin has completed his Boise State staff with the announcement of three additions today. Junior Adams, former All-American wide receiver at Montana State and wide receivers coach at FCS power Eastern Washington, will take the reins of the Bronco wide receivers. Blake Baker will be director of player personnel, while former Bronco Lee Marks will assist Jeff Pittman with the strength and conditioning program at Boise State.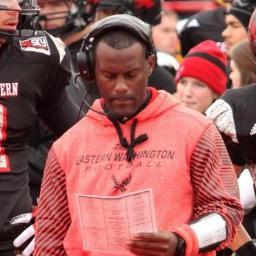 Adams helped Eastern Washington make the playoffs in four of the last five seasons, including a national championship in 2010. The Eagles were fourth in FCS in passing (349.8 yards per game) and had two receivers in the Top 10 nationally. Freshman Cooper Kupp led the country with 1,691 yards this past season, fourth-most in FCS history. Senior Ashton Clark was sixth with 1,233 yards. That should excite current and prospective Bronco wideouts.
Adams also coached at another school familiar to Boise State fans. He was an assistant at Prosser High School in Washington for coach Tom Moore, the father of Kellen and Kirby Moore. In 2007, Adams helped Moore engineer a 14-0 record and the Washington 2A State Championship.
Baker spent the 2013 season as the safeties coach at Arkansas State under Harsin and was a defensive graduate assistant at Texas, where he also worked with Harsin.
Marks was a two-time All-Western Athletic Conference player for Boise State, and worked for three seasons as an assistant strength and condition coach under new Bronco strength coach Jeff Pitman at Colorado. Pittman of course also coached at Boise State previously in the same capacity. Marks also was the Assistant Director of Strength and Conditioning at Arkansas State this past season.