Nevada hopes to not make it a blip, but a trend. The Wolf Pack dominated the line of scrimmage one year ago in sending Boise State into the locker room depressed. How did such a thing happen?
It happened because Boise State did not take Nevada seriously, at least the fans didn't. They believed Boise State was on their way to the Rose Bowl or perhaps the National Championship game. Reno was just a stop along the way. I doubt if the Bronco players shared that view. The Nevada offensive and defensive lines were better and the Wolf Pack controlled the ball for 22 out of 30 minutes in the second half. When Boise State needed a stop on third down, they couldn't make it. In between plays, the Bronco players were worn out (i.e. hands on hips, short breaths, etc.) A team that prides itself in workouts and conditioning was worn down by the tough Nevada offense.
Meanwhile, the Bronco offense, as high flying as it is, couldn't get a first down. Had they been used to playing 100% for four quarters, they could have put the game away. But they didn't. They couldn't run and they couldn't pass in the second half and the better team won on that day.
Some might say that win was a fluke, especially how it turned out, but if you can't block and you can't tackle, it doesn't matter what a field goal kicker does--the game is won and lost in the trenches and the hogs up front for Nevada had a field day with their opponents from Boise. So that brings us up to the game Saturday afternoon between these two teams.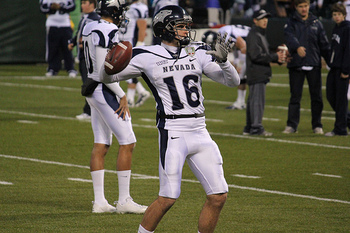 Boise State is coming off a game where once again, they let their opponent outplay them in the second half. Nevada is coming off a road game in which they led Texas Tech for much of the game before losing a heartbreaker 35-34 on a touchdown with 44 seconds remaining on a fourth down play. Bronco fans might have been thinking (or probably more accurately hoping) that with Colin Kaepernick gone, Nevada was going to fall apart. Not so. The performance last week against a very talented Red Raider team blows that theory to smithereens. Redshirt freshman Cody Fajardo came on in the second quarter and threw two touchdowns passes and ran for a 56-yarder for Nevada. He finished with 139 yards on 10 carries. Colin Kaepernick didn't gain that many yards in too many games. Could we see the beginning of another four-year player to cause nightmares and wreak havoc on the Bronco defense?
Combine the new star Fajardo with Boise State's inability to generate anything resembling a consistent running game and you have the makings of another Nevada win. The Broncos could change history with a few good blocks here, a few good blocks there, and a few more textbook tackles all over and win the game.
Or they could leave it up to a field goal.