Recipe for beating Boise State (see Nevada, the only team in the last three years to do it): Be able to run the ball and have a quarterback that can run and throw.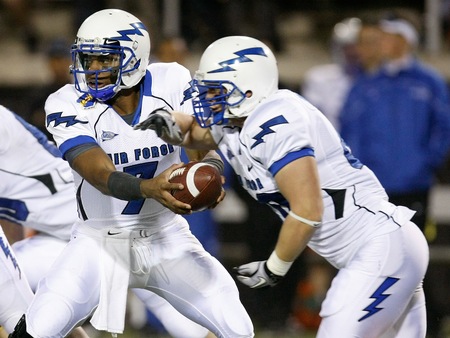 Air Force comes into Saturday's showdown with Boise State with an unstoppable ground attack and one of the nation's winningest quarterbacks in Tim Jefferson. They had an impressive outing against Navy, winning 35-34, but fell to TCU and lost badly to Notre Dame.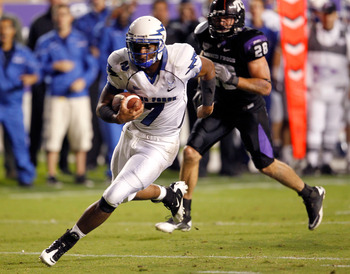 Jefferson returns to lead an Air Force option attack which ranked second nationally in rushing last season and is third this year with 336 yards per game. Jefferson, along with all-conference tailback Asher Clark, will fill a void left by fullback Jared Tew. Jefferson is a good strong runner that will move the pile but doesn't break a lot of tackles. He is an accurate passer (67-107 (62.6%) for 854 yards and eight touchdowns vs. five interceptions), but but most attempts are possession-type throws; the deep ball isn't a huge threat. Air Force returns six offensive starters, including three offensive linemen, led by all-conference guard A.J. Wallerstein.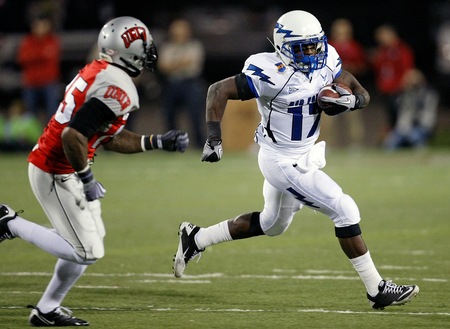 Clark rushed for over 1,000 yards last season. and has an incredible 8.16 yards per carry with 553 yards total in six games this year. Air Force will often lineup with one or two wingbacks lined up who can block, go out on a route or sprint to the backfield to take a hand-off or pitch.
What works well against the triple option is an aggressive, swarming defense that knows and carries out their assignments. The linebackers on both sides have to stay home and be ready. Jefferson will often keep the ball so as is always the case with an option quarterback the key is to Tackle the Quarterback! If he has the ball on the outside, don't continue to run with him for that gives the defenders behind you two runners to think about. Rather, tackle Jefferson immediately and force him to pitch. As I mentioned, most of the time he will keep it and you have him for a loss or minimal gain. But if he does pitch, the other defenders then can focus on one guy and converge for the hit.
The Falcon defense is currently ranked next-to-last in major college football in rushing defense, which is puzzling since they returned most of their starters this year. Air Force allows 229.5 yards per game, but Nevada wasn't ranked highly in this category either last year--yet they got it done when they had to against Boise State last year. Air Force will occasionally line up in a 4-3 but predominantly they play a 3-4 with one or two linebackers playing up and rushing. Linebacker Brady Amack leads Air Force with 58 tackles this season.
I analyzed the TCU game with Air Force. The Horned Frogs often were effective with throwing the ball over the middle. On one play, TCU stacked two receivers on both ends of the field, sent the tight end deep and curled Josh Boyce in underneath for a nice gain On another play, TCU sent trips to the right side, threw a quick out to the trailing receiver and had two blocking in front of him for a big play. On the play, Air Force had one defender lined up to cover the three with the other defensive backs playing well behind and the play went for big yardage.
This will also be a good game to see how Boise State compares with TCU, which will be the next team to visit The Blue. TCU went out to a 14-0 lead, were ahead 21-3 at the half and 35-9 at the end of the third quarter before winning 35-19.
In the comparison of placekickers, Parker Herrington of Air Force is 7-of-8 this year while Dan Goodale of Boise State is 29-33 on extra points (he doesn't attempt field goals often.)
This game will be decided on the line of scrimmage. Since Air Force has proven vulnerable against the run, Boise State must be able to run effectively. Air Force will want to rush and blitz their linebackers, but spreading the field with several wideouts can neutralize that. By creating space to slip receivers over the middle, Boise State quarterback Kellen Moore can take advantage of matchup problems using the quickness of the Bronco receivers against the AF linebackers.
On the other side of the ball, the Bronco defense must focus on what they've learned in practice and carry out their assignments on the field. Boise State has been aggressive the last two games and they need to continue with that brand of football to defeat Air Force. The best Air Force plays occur when a back breaks past the line into the open. The Bronco defensive line must not allow themselves to be sucked in and the linebackers must close the gaps to prevent long runs. Blown assignments and missed tackles are what Air Force is looking for. They don't possess great speed but they will beat you if you are not where you are supposed to be or try to dive at a ball carrier rather than wrap up.
The battle to establish the run for both teams will be an entertaining game to watch, one that would likely be filled by 50,000 seats--if they were available. Since they are not, the crowd of 34,000 has a job too by disrupting the Falcon offense and its frequent audible calls.
Boise State vs. Air Force--tomorrow (Saturday) at 1:30. The game will be televised live nationally on Versus.